Our Projects
Stevedoring Services

1. SMRT Circle Line project in Singapore
Delivery of 20,000 tonnes of steel H-Beams and discharging 4 complete sets of Tunnel Boring Machine to the MRT Circle Line project site, the heaviest of which was 110 tonnes.











2. Transshipment of heavy out-of-gauge cargo
Transshipment in Singapore, one unit of Switch Board Condenser from Germany, loaded onto a LCT for final delivery to Kuantan, Malaysia. Cargo Specs: 8.55m x 3.50m x 5.35m @ 50 m/tons








3. Transshipment service of bulky cargo
Transshipment of 55 tonnes empty cable reel, from Batam, Indonesia to Southampton, U.K. via Singapore.





Barge / Tug Services

4. RPG3 Marine work
3000hp tug towing one 180-footer driller-rig crane barge from Batam, Indonesia to Port Hedland, Western Australia, for RPG3 marine work.






5. Mitsubishi 36T Quayside Cranes
Shipment of three units of Mitsubishi 36T Cranes from Singapore to Tanjung Priok Port, Jakarta, Indonesia, with combined gross weight of 650 tones.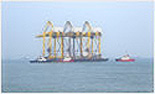 Chartering
6. Semi-submersible drilling rig project
Shipment of 2 units of pontoon each weighing 2441T on a semi-submersible vessel from Singapore to Baku, Azerbaijan.






7. Shipment of 230T LHM400 mobile crane
Shipment of 230T LHM400 mobile crane from Singapore to Guam.





8. Transshipment of heavy out-of-gauge cargo
Loading of Crane's part into a 40FT high cube container for shipment to Middle East.




9. Multi-modal transport services
Transformer unloaded off Roro vessel and transferred to barge for shipment from Pasir Gudang to Sibu, Malaysia.










10. Transloading of overweight containers
Transloading and handling of overweight containers containing logs bound for Vietnam at Jurong Port.








11. Out-of-gauge import
Local import of out-of-gauge ship stabilizers from Italy onto a low-bed trailer for local delivery.